Elle magazine presents Elle Decor Grand Hotel, an exhibition to celebrate the renewal of contemporary hôtellerie and the work of two astonishing architects. At Palazzo Morando, Milan, until October 22nd.
Until October 22nd Palazzo Morando will host the exhibit Elle Decor Grand Hotel, created by the magazine Elle Decor Italy and designed by architects Piero Lissoni and Patricia Urquiola.
In the spaces dedicated to the Civic Collection of Costume and Fashion, the exhibition offers visitors a journey through the various rooms of a Grand Hotel, right in Milan's urban heart.
On one side, visitors may breathe a welcoming and casual atmosphere; on the other, intimate and discreet rooms await to be discovered.
Art, architecture and design blend with history in a meditation on contemporary hôtellerie, the art of organized hospitality.
Piero Lissoni and the public spaces
Piero Lissoni, architectural creator of company buildings, theatres and hotels such as the Conservatorium Hotel in Amsterdam and the Mamilla Hotel in Jerusalem, has designed the public spaces of Elle Decor Grand Hotel as an "Hotel Particulier". The result combines classicism and modernity, re-reading the signature style of Italian architects of the sixteenth and seventeenth centuries.
French names are assigned to the various environments – Accueil, Fumoir, Bibliothèque, Cafe & Restaurant, Sejour and Jardin; all are meant as an open dialogue between contemporary design pieces and scenes of period buildings, photographically reproduced on the walls.
Patricia Urquiola and the private spaces
Patricia Urquiola, Spanish architect and designer, has conceived the most private among the rooms: the bedrooms.
The "Stanzas", designed as "scattered moments of a story and fragments of many forms of life", are an explicit reference to the verses of "Stanzas in Meditation" by Gertrude Stein, 1929.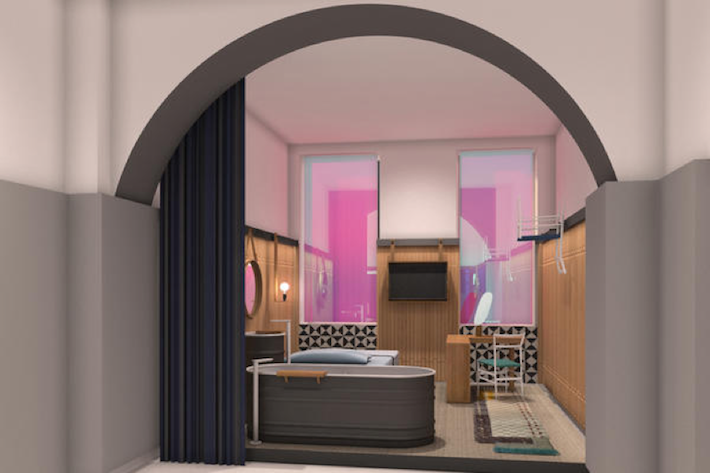 Spaces at the Grand Hotel have not been interpreted by Urquiola as serial rooms, but as "room for 1, 2, 3, 4, 5". This make them immediately connected to a lone traveler, a couple or a group of people.
The custom-made furnitures are provided by Cassina Contract, expressly selected by Urquiola herself.
The exhibition is open until October 22 from 10am to 8pm in Via Sant'Andrea, 6 Milan. Admission is free.