How do you picture a summer dinner in Ibiza? Maybe with deliciously rustic tableware in front of you, a glass of fragrant white wine in one hand and a delicate warm breeze caressing your skin? Can you hear the laughs and talks around you, cheerful yet gentle? Can you anticipate the pureness of a traditional dish reinvented by masterly hands? There's a spot in the very centre of Ibiza that embodies the dream of everyone who wants to enjoy the laid back Balearic lifestyle without giving up on gourmet delights. It's called Bottega il Buco.
The name partially gives it away already: Bottega il Buco has some Italian blood in its veins. Yet its story is more far-reaching and international than the Mediterranean peninsula.
The Bottega – how the restaurant is known among its regulars – is the first European outpost of il Buco, the renown Manhattan eatery that was ahead of its time when it proposed rustic chic dining back in 1994. A creature of long-time entrepreneur Donna Lennard and her Italian partner Alberto Avalle, il Buco helped to spread from NoHo to the whole city the culture of high quality yet simple food served in a homely albeit sophisticated environment. And as it reached its silver anniversary, it was almost natural for il Buco to land in Ibiza. After all, this is the island where simplicity meets beauty, and where international flavours blend effortlessly with the roots of tradition.
Bottega il Buco, Santa Gertrudis
Bottega's location in Ibiza is not just any location. The restaurant and its terrace watch over the village of Santa Gertrudis, considered the culinary centre and authentic heart of the island. Here the community leaves a boho lifestyle full of all the comforts of modernity; international families gather with friends all year long and let their children roam free around the neat and cozy streets and parks.
With such an atmosphere full of joyful reminiscence of less stressful times, it's no wonder that the Bottega has quickly become a local favourite. It's relaxed and welcoming vibes invite you in for a snack and have you stay for endless chats in front of crisp focaccia and tempting Gin and Tonics.
Focaccia, the Queen in a Menu of Wonders
Yes, you read that well: focaccia. Bread-making is what probably defines Bottega's identity best, with its philosophy transpiring in every other dish on the menu. All the ingredients – in the focaccia's case, ancient organic Triticum durum grain sourced in Caltanisetta, Sicily – pass through an attentive process that requires mindful research and skilful handling. The timings of the raw materials are respected: long hours of levitation for the bread, slow cooking techniques applied to the meat, and immense respect for the fruit and vegetables sourced from local farmers.
It goes without saying that the menu changes according to the season, and the creativity of the pairings varies with it. The base is that of authentic Italian cuisine, led by an evergreen such as the Paccheri all'Amatriciana with guanciale and Pecorino Romano. Yet, the ingredients are continuously reassembled with a twist that makes everybody from every corner of the world feel at home. This way, you may end up tasting a sea bass ceviche of Peruvian memory next to a selection of thoroughly Spanish charcuterie; a beetroot tartare with green apples that could turn pale the most uncompromising vegan restaurant; and a slow-cooked lamb shoulder with wild fennel that could make you travel in time to the house of your nonna, full of love and hearty food.
But the star of it all remains the focaccia. The toppings vary according to the season and to the chef's and staff's imagination. From the sweetest squash to the tastiest anchovies, from the never-out-of-fashion fresh tomato with mozzarella to the captivating cream cheese and mortadella. Close your eyes, bite in, and let your brain explode with this kaleidoscope on delicious sensations.
Wines, Or The Odd Characters
In such a temple of gourmanderie, would you think that the wine pairings are left to chance? Of course not. The wine list is curated by wine director Roberto Paris, also responsible for the cellar at the first il Buco and of its first offspring, il Buco Alimentari & Vineria. The Bottega features more than 90 labels with a penchant for organic and biodynamic catches, and ultimately for the "odd characters", as Paris likes to call the gems he uncovers around Italy, France and Spain.
Take the Bottega il Buco Delights with You, Always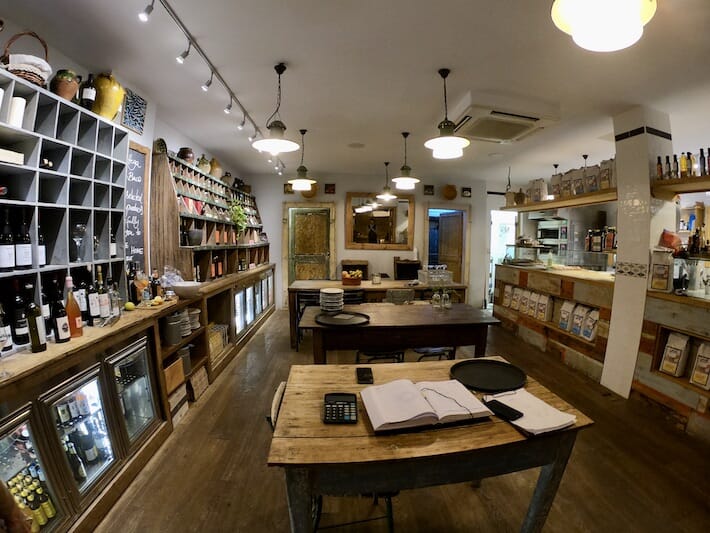 The philosophy of the Bottega is not of a one-time dinner that you thoroughly enjoy but never repeat. This is a place where you come with friends the first time, then a second time with your fiancé, then a third time with your parents. And lastly, you may find yourself coming back every time you feel like it. The atmosphere is too familiar and the food variety is too intriguing not to be drawn towards it again and again. That's what the Alimentari shop inside the restaurant is for: to let you take home some of the delights you have tasted, such as the artisanal olive oil or the salumi and formaggi that make up for a splendid picnic on the beach when accompanied with some freshly-baked bread.
And if you feel like craving a piece of Bottega il Buco right in your home, do not despair: you may shop for il Buco Vita housewares, a collection of simple yet stylish table pieces with delicate colours and a vintage touch. They will be like everyday amulets that will forever remind you of those blissful summers in Ibiza.